Subject: Latest News from the Inner Forth Partnership team View this email in your browser
Welcome to IFLI's February 2017 E-newsletter
In this issue:

As part of our Training Tomorrow's Talent project IFLI has been providing bursaries to local students whose research works to enhance the understanding of the Inner Forth, as well as complementing the work undertaken by ourselves and various partners.

We've asked the bursary students to introduce themselves below:

Julie Ann McHale



I am currently a student at the University of Stirling where I am working towards an MSc in Environment, Heritage and Policy. In 2010 I returned to education to study Archaeology at the University of Glasgow after working for almost a decade in financial services. I had always wanted to study archaeology as I was fascinated by how people had lived in the past. During my undergraduate studies I was fortunate enough to have worked on several archaeological activities ranging from community-led excavations to artifact workshops with primary school children.

My experiences of working with communities has led to me developing a keen interest in how the historic environment can benefit and potentially help individuals and communities. The projects I was involved in not only encouraged conversations about heritage and learning about the past but helped in developing community spirit and taught people new skills.

IFLI have awarded me a Student Bursary to complete a research project that aims to identify what young adults, aged 18-24, think about heritage, and if participation in heritage-inspired activities can assist in developing and promoting a sense of well-being. I would like to have conversations with young adults who have participated in heritage-inspired training activities to understand their perception of the historic environment.

If you are aged between 18-24 and would be happy to be interviewed for this research project please contact kirsty.mcalister@rspb.org.uk who can put you in touch with Julie Ann.

Aaron Martin



My name is Aaron Martin, and I am working with IFLI on a dissertation project focusing on an ex-amenity grassland site and brownfield site in Bridgeness, which is now locally important for wildflowers.

I have always been interested in the environment, and that interest led me to study Environmental Science and Sustainability at the University of Glasgow. Now studying an MSc in Environmental Management at Stirling Uni, I am pleased to have the opportunity to work with IFLI and Buglife.

My aim is to determine whether the management of the grassland and brownfield sites in Bridgeness is affecting pollinator populations and if so, what actions are having the largest impacts. This is important as wildflower habitats have decreased by 97% since the 1930s. Overall, I think the local community in Bo'ness will benefit from having an aesthetically pleasing and ecologically important habitat in their area and this project will look at improving the management of these sites.

Liam Boyle



My name is Liam Boyle, and I am currently studying at the University of Stirling for an MSc in Environment, Heritage and Policy. I also previously studied history here for my undergraduate degree, graduating in 2015. For my dissertation, I will be focusing on the values and memories associated with Stirling's lost harbour.

Although abandoned for much of the post-war period, this project will endeavour to analyse the social memory associated with the harbour and assess the values attached to the site. The project will look to understand the value the harbour had to the local community and in what ways this has changed following the closure of the site. I will seek interviews with those with ties to the area to discover if trans-generational links between family members have maintained the value of the site today. This project will also question the existing interpretation of the harbour and ask whether there is any desire to alter the current management of the site from the local community in the future.

Liam's project was funded as part of our Forth Crossings project. If you have any memories of the Stirling harbour you'd like to share please contactkirsty.mcalister@rspb.org.uk who can put you in touch with Liam.

In previous years bursaries have also been given to the following two research projects, with both reports available on our website: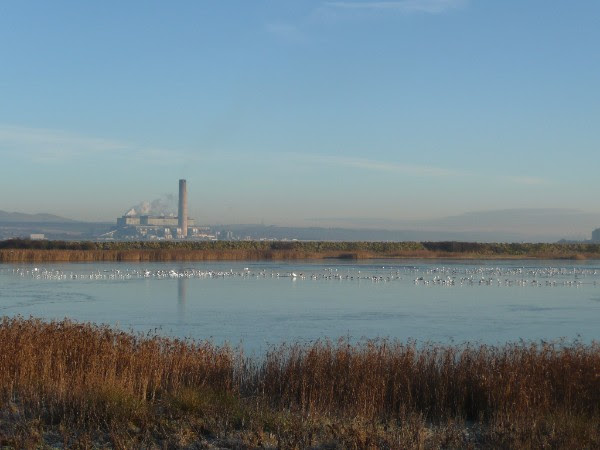 In March IFLI and the RSPB will be hosting a free event to get people across the Inner Forth area involved in creating new wildlife habitats of all sizes.

"Wildlife Connections: Linking Wildlife-Rich Habitats Across the Inner Forth" is the perfect event for any landowner or manager who wants to do their bit to help make the Inner Forth a better place for nature. It's a free one-day event on 23 March and will feature a mixture of talks from community groups, land managers, charities and local authorities explaining what they have done to help wildlife on their land and why.

There will also be practical workshops with advice on managing specific types of habitats, including woodland, wetland and wildflower meadows.

You can book your spot by visiting the Eventbrite page.

This event is part of the RSPB's Wildlife Connections project, which aims to work with land managers to better understand and improve the local landscape for wildlife and people.


P4 and 5 students from Bo'ness Public Primary invited Provost Pat Reid and Friends of Kinneil chairperson Maria Ford, along with their own families, to Bo'ness Town Hall to celebrate their learning as part of their involvement with the RSPB Future Tides project.

Since September 2016 the children and their teacher Annabelle Glen have been out and about exploring the Inner Forth with Miranda Shephard from RSPB Scotland, discovering why it's such a great place for people and wildlife.



IFLI have been working with our partner organisations and local volunteers to develop a range of wildlife ID workshops throughout 2017. Already this year we have featured estuary birds, and tips on how to ID trees in the winter, and the workshops continue into March with two separate sessions on Getting more out of Biological Recording and Monitoring. Throughout the year workshops will focus on everything from badgers to dragonflies to wildflowers, and much more in between.



More information can found on our Events Calendar.

All the workshops are free thanks to our HLF funding, and you don't need any prior experience, but booking in advance is essential. To book any workshop on the list please contact the IFLI office on 01324 831568 or email info@innerforthlandscape.co.uk.




In January Margaret from Forth Valley Orchards Initiative visited the Valleyfield Estate Community Orchard in Fife to tutor West Fife Woodlands group members in pruning the fruit trees that were planted in February 2016.

Pruning trees while they are dormant over the winter months can help air circulate among the branches, reducing the risk of infections and encouraging the trees to produce more fruit. If you have a fruit tree to prune or want learn more about orchard care, take a look at one of the many 'How To' guides online, and keep an eye on the IFLI events calendar for upcoming workshops within IFLI's Fruitful Communities project led by Forth Environment Link, like the Fruit Tree Grafting workshop in March.


Photos thanks to Alan and Hilda from West Fife Woodlands.


The latest set of target species has been announced, as we continue to build a better picture of local wildlife through the Inner Forth Nature Counts programme through iRecord. If you see any of these species when you are out and about in the local area please take a minute to add them onto the form - each sighting is important in building our understanding of local nature.




Keep an eye on social media and on our future e-newsletters for the target species from the coming months.


As part of World Wetlands Day 2017 we invited a group of 3rd year pupils from Alloa Academy to visit the new facilities at RSPB Black Devon Wetlands, a nature reserve which is right on their doorstep. The group of 17, along with their teachers, learned about the importance of wetlands in the Inner Forth and worldwide, and also got the chance to do some practical conservation work by helping to build a screen from willows cut elsewhere in the site.



Bridgeness Biodiversity - Volunteer Event
Bridgeness Ship Breakers
Wednesday 1st March
10:00am - 1:00pm

Help Buglife to preserve an important spot for nature in the Inner Forth at one of its regular volunteer days in Bridgeness. More info.

Hawthorn Tree Removal
Kennetpans
Saturday 4th March
10:00am - 3:00pm
Get involved with the start of a orchard management group and pick up some practical skills with FEL. More info.

A healthy walk to Black Devon Wetlands
RSPB Black Devon Wetlands
Wednesday 8th March
1:30pm

Join Braveheart and IFLI for a trip to the newly improved Wetlands near Alloa. More info.

Getting more out of Biological Recording and Monitoring
Balallan House
Saturday 11th March
10:00am - 4:00pm

This workshop is aimed at up-skilling existing wildlife recorders, conservation volunteers and community groups who manage sites for wildlife. Learn about national wildlife monitoring schemes and develop skills to help you develop and understand data for your own site. More info. (Also takes place in Bo'ness, 24th March)

Insight Tour: Clackmannan Tower Architecture (Fully booked)
Clackmannan Tower
Saturday 11th March
10:00am - 3:00pm

Join architects from The Engine Shed in a tour of Clackmannan Tower to discover more about the conservation and maintenance of this historic structure. More info.

Fruit Tree Grafting, and Planning to Care for your Orchard
Westfield Park Community Centre
Saturday 11th March
10:00am - 3:00pm

Join Forth Environment Link to pick up tips on how to maintain your orchard - from planning to planting to grafting. More info.

Higgins Neuk Fieldwork Weekend
Saturday 11th - Monday 13th March
10am - 4pm

A chance to see some practical archaeological survey work in action at this SCAPE project near Airth to discover the remains of a possible medieval boatyard. More info.

Wildlife Connections: Linking Wildlife Rich-Habitats Across The Inner Forth
Alloa Tower
Thursday 23rd March
10:00am - 4:00pm

This single-day conference will give you an opportunity to learn about what you can do to create new habitat in our landscape. Includes a range of speakers and practical workshops. More info.

Getting more out of Biological Recording and Monitoring
Bo'ness Library
Friday 24th March
10:00am - 4:00pm

This workshop is aimed at up-skilling existing wildlife recorders, conservation volunteers and community groups who manage sites for wildlife. Learn about national wildlife monitoring schemes and develop skills to help you develop and understand data for your own site. More info.

Badgers for Beginners Workshop
Blackness Boat Club
Saturday 1st April
10:00am - 4:00pm

Join Emily Platt (Species Protection Co-ordinator, Scottish Badgers) for an informative talk followed by practice survey of a badger sett. More info. Followed by two guided badger surveys on the North (5th) and South (8th) of the Forth.

Bridgeness Biodiversity - Volunteer Event
Bridgeness Ship Breakers
Wednesday 5th April
10:00am - 1:00pm

Help Buglife to preserve an important spot for nature in the Inner Forth at one of its regular volunteer days in Bridgeness. More info.

Amphibian Survey Training Evening
Balquhidderock Wood
Friday 7th April
7:45pm - 9:30pm

Join Froglife to learn how to look for and record sightings of amphibians. More info.

Copyright © 2017 Inner Forth Landscape Initiative, All rights reserved.
You are receiving this email because you provided your email address at one of our community events, during completion of an audience survey or you requested to be added to the Inner Forth Landscape Initiative newsletter list.

Our mailing address is:
Inner Forth Landscape Initiativec/o RSPB Skinflats Reserve OfficeBothkennar Research StationHaughs of Airth, Falkirk FK2 8PPUnited Kingdom
Add us to your address book

unsubscribe from this list update subscription preferences